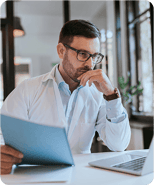 What's required to develop a profitable remote patient monitoring (RPM) program that effectively meets patient care needs? Let Rob Cushman tell you! He's the CEO of Dunwoody Village Clinic in Georgia who oversaw the creation and implementation of the practice's RPM program and continues to manage it today. Since it's launch, the program has experienced substantial growth, with Cushman and the Dunwoody team working to bring valuable RPM services to even more patients.
Fill out the form on this page to watch our webinar "Building a Successful RPM Program in Independent Practice" that was recorded on October 17, 2023. Topics covered include:
Overcoming early RPM obstacles
Securing organizational support
Recruiting, enrolling, and engaging patients
Training staff and managing workloads
Scaling RPM programs
Billing and navigating reimbursement challenges
Evaluating prospective RPM technology and service partners
* * *
* Disclaimer: This presentation is for informational purposes only and does not constitute legal or other professional advice.

Billing and coding requirements – especially in the telehealth space – can change and be reinterpreted often. You should always consult an attorney and/or medical billing professional prior to submitting claims for services to ensure that all requirements are met.