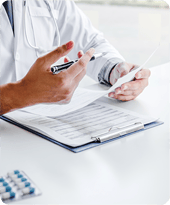 The Medicare annual wellness visit (AWV) is an incredibly valuable service that helps patients better connect with appropriate health services and develop a preventive health plan and helps providers increase revenue opportunities and patient compliance rates. By expanding an existing AWV program or establishing a new program, you can bring this valuable service to more patients and generate significant, recurring reimbursement for your organization.
Watch on-demand as we discuss:
Key annual wellness visit requirements
Capturing and increasing patient volume
Billing for the AWV
Getting paid for preventive services provided with the AWV
Compliance update and recommendations
*Disclaimer: This presentation is for informational purposes only and does not constitute legal or other professional advice. Although best efforts are taken to make sure all information contained herein is correct, the presentation is provided "as is" without any express or implied warranty.
Billing and coding requirements – especially in the telehealth space – can change and be reinterpreted often. You should always consult an attorney and/or medical billing professional prior to submitting claims for services to ensure that all requirements are met.