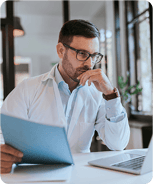 Watch It On-Demand
The 2023 Medicare Physician Fee Schedule final rule includes significant changes and additions affecting the delivery and billing of remote/virtual care management for providers in the new year.  
Fill out the form on this page to hear Daniel Tashnek, JD, Prevounce CEO, attorney, and remote care management expert, as he discusses:
Overhaul of remote therapeutic management (RTM)  

New chronic pain management service

Telehealth provisions

Behavioral health services

How organizations should respond to the final rule 
Stay through the end of the program to hear Daniel answer questions submitted by attendees.
*Disclaimer: This presentation is for informational purposes only and does not constitute legal or other professional advice. Although best efforts are taken to make sure all information contained herein is correct, the presentation is provided "as is" without any express or implied warranty.
Billing and coding requirements – especially in the telehealth space – can change and be reinterpreted often. You should always consult an attorney and/or medical billing professional prior to submitting claims for services to ensure that all requirements are met.