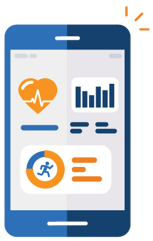 The Centers for Medicare & Medicaid Services (CMS) has released its 2022 Medicare physician fee schedule final rule. There are noteworthy changes affecting the delivery, coding, and billing of telehealth, chronic care management (CCM), Medicare preventive services, and other care management services.
Join Daniel Tashnek, JD, founder of Prevounce Health and a healthcare attorney, as he:
highlights the most significant changes finalized in the rule
closely reviews changes affecting the coverage and billing of chronic care management
discusses developments concerning "direct supervision" of telehealth, virtual check-in, and remote therapeutic monitoring
explains how these revisions and others will affect existing and planned care management programs
outlines other significant developments affecting care management services from 2021, including remote patient monitoring (RPM) audits, CCM overpayments, and telehealth legislation
identifies potential compliance pitfalls and how to avoid them
provides guidance on what will be required for chronic care management and, more broadly, care management success in 2022
Fill out the form to watch the webinar recording.