What To Know About Providing and Billing for Medicare Preventive Services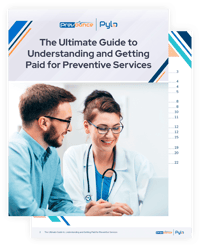 Preventive services are one of the most important, cost-effective ways healthcare organizations can support Medicare patients. Timely, ongoing preventive services help prevent illness, disease, and other health problems while mitigating existing chronic diseases. Organizations that provide Medicare preventive services are also rewarded with recurring revenue as well as reduced expenses that can make alternative payment models more lucrative.
Promoting wellness is a win for everyone: patients, providers, payers, and our healthcare system as a whole. Practitioners interested in providing preventive services to Medicare patients and getting paid for them will want to ensure a strong understanding of these services and their requirements. The good news is that we've developed a resource that will help do just that.
By downloading our detailed preventive services guide, you will learn about:
Importance of Medicare preventive services

Role of the U.S. Preventive Services Task Force (USPSTF)

Delivering preventive services, including advance care planning

How annual wellness visits offer opportunities to provide preventive services

Ways to improve patient education about and engagement in preventive services
Coding and billing Medicare preventive services

CPT and HCPCS codes for covered preventive services

Tips to get paid for preventive services and reduce denials