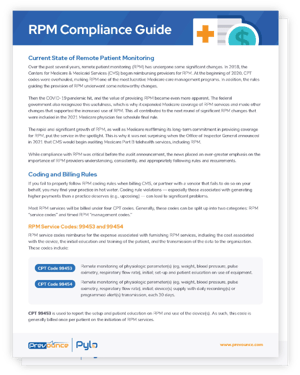 The rapid rise of remote patient monitoring has been a boon for patients and practices. For patients, RPM has provided faster and easier access to healthcare services, all from the safety and comfort of their homes. For practices, RPM is one of the more lucrative Medicare care management programs that also helps improve patient outcomes.
But with this rise has brought increased scrutiny of RPM by the federal government, including the announcement in early 2021 of a series of audits of Medicare Part B telehealth services, including remote patient monitoring. The good news is there's no reason to fret: Practices that work to ensure they understand and consistently follow rules and requirements and partner with vendors that do the same can reap the many benefits of remote patient monitoring while staying on the right side of the law.
This guide can help you do just that! It provides fundamental information about remote patient monitoring compliance that will help ensure your RPM program is properly coding, billing, and getting paid for RPM.
Topics covered in this detailed remote patient monitoring compliance guide include the following:
Current state of remote patient monitoring
Breakdown of current RPM CPT codes and their definitions
Detailed discussions about RPM guidelines on key topics, such as number of measurement days, definition of "interactive communication," and device requirements
Update on rules concerning patient consent
Information on RPM copayment requirements
Notes on HIPAA and FDA
*The contents of this guide is intended to convey general information only and not to provide legal advice or opinions. All claims to Medicare should be reviewed by a qualified medical coding and billing professional prior to submission.