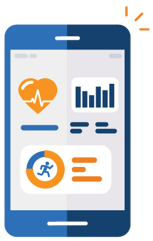 The Centers for Medicare & Medicaid Services (CMS) has released its 2021 Medicare physician fee schedule proposed rule. There are many changes that, if finalized, would significantly affect the delivery, coding, and billing of remote patient monitoring (RPM) services.
Watch Daniel Tashnek, JD, founder and CEO of Prevounce Health, the developer of the Prevounce Remote Patient Monitoring system, as he:
outlines potential revisions to RPM coding and billing rules
reviews the proposed redefining of "interactive communication"
explains the significance of proposed changes to which devices qualify as billable under RPM
identifies steps practices may want to consider taking in anticipation of proposed changes becoming finalized
discusses the topics for which CMS is requesting feedback and what these may indicate for the future of RPM
Fill out the form to watch the webinar.